CWC Exclusive Dress Set "Baby Rose"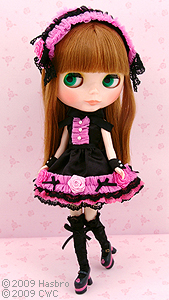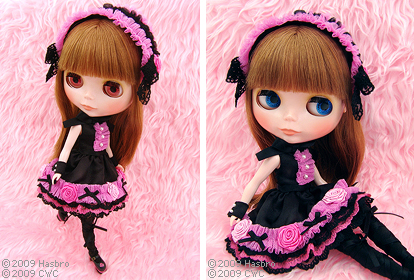 CWC Exclusive Dress Set, "Baby Rose" is a collaboration work with the team, *Soleil*, the grand-prix winner of the 3rd annual Blythe Beauty Contest 2008 in the 'Special Beauty Category.'
Their lovely dress was reproduced as closely to the original winning outfit, as possible, creating a feeling of fresh rose blossoms turning in a deeper red.
************************
A girl who loves to play in her lovely room, surrounds her self with her favorite things.
Today she wears her favorite dress and is waiting with her rabbit, Rabi and for her friend to come visit her.
Then she hears her friend's arrival, someone's at the door,
'Knock, Knock!'
'Here she comes. Open the door, Rabi!'
Rabi unlocks the door.
There is a big smile on the face of her friend.
'Welcome to my room! I was looking forward to your visit!'
************************
There's a soft black chiffon sateen sleeveless dress, hemmed at waist with a double-layered skirt.
The neckline and upper skirt is trimmed with pink, soft tulle.
Pearl buttons fasten the top and roses in two different pink and black satin ribbons are sewed onto the skirt.
Triple-layered black and pink scalloped laces add to the gorgeousness on the hem of the lower skirt.
The head-dress features the same pink and black soft tulle as on the skirt.
It looks very sweet with black lace and two roses on both left and right side.
With Velcro Tape on the sateen ribbon at a neck, it's easy to put on and undo the head-dress.
Pearl-buttoned cuffs complete the chic feeling.
Knee-high socks trimmed with lovely lace also features ribbons attached on the heels so that they look like lace-up socks.
Sweet Lolita-style completes in strap shoes which have pink lines on their thick soles and a rose print on their toes.
Dress up your lovely Blythe doll from head-to-toe in this special dress set, 'Baby Rose'!
[The set includes ] dress, cuffs, socks, head-dress,and shoes.
*The doll in the photos is CWC Exclusive for Asia and CWC "Beatrice Vest," and is not included in the set.
Suggested Retail Price: 5,040yen (Tax Included)
Date Available: November 6 at CWC official shops: Daikanyama "Junie Moon", Shinjuku Marui One 4F "LeLe Junie Moon", Blythe official mobile site "Shop Drop" (Japan only) and CWC Group On-line Shopping.
***Chance to purchase CWC Limited Neo Blythe Dress Set, "Baby Rose" at your local shops!****
Available at all Blythe Top Shops in Japan from November 27.
Due to the limited quantity of the available item, we advice you to confirm shops in advance.
Please understand when it has sold out.
Click here for the list of the shops to purchase CWC Limited Neo Blythe Dress Set, "Baby Rose".